As Canadians, we know that we're blessed to live in one of the safest, most diverse and prosperous countries in the world.  We take pride in that, and we don't take it for granted. That's why, when we saw those first images of Syrian refugees struggling to escape to safety among the rocks and beaches of Turkey and Greece, we knew we had to do something to help.
InfoTech's founder and CEO, Zorianna Hyworon, was personally moved by the resonance to her own experiences. "I came to Canada with my parents as refugees after World War II," she points out. "After living in a refugee camp in Bregenz, Austria for 4 years, we were sponsored to come to Canada by a total stranger, someone we never met or had an opportunity to thank personally."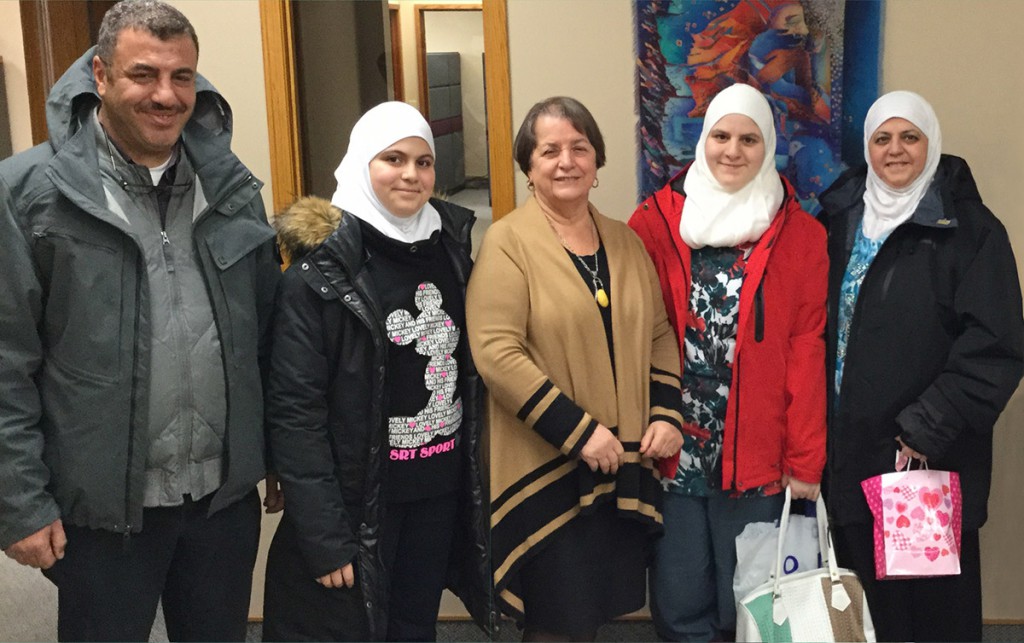 "Sponsoring the Aljundi family, with the involvement and support of our InfoTech team, is honoring the sponsorship commitment made over 66 years ago.  Our focus now is to help our sponsored family establish themselves in Canada and hopefully, some day, be in a position to help another family seeking peace and security in Canada."
The Aljundi family was selected for InfoTech's sponsorship by the Mennonite Central Committee, Migration & Resettlement Program Coordinator working with the Syrian Assembly of Manitoba.
Father:   Fadi Alabsi Aljundi, has a B. Sc. Degree in Architectural Engineering from Damascus University.

Mother:  Nuha Almur Aljundi has a B.A. in business from the Faculty of Economy and Business Management in Damascus.

Daughters:       Rama Alabsi Aljundi, aged 16, and Raghad Alabsi Aljundi, age 12
The Aljundi family's story was common to refugees living through and fleeing from war.  Their lives has been under threat ever since the beginning of the uprising in 2011.  Their home, in rural Hama, was in an area that was heavily bombarded right from the beginning of the war.  The family relocated temporarily to Damascus, to live with Fadi's parents.  But safety was elusive as Damascus became a warzone.   Hearing that the situation in rural Hama had stabilized, they returned home to find everything they had left stolen, destroyed or burned to the ground.
Offered visas to the UAE, although without any guarantee of jobs and accommodation, they took the chance. However, the lack of opportunities, financial security and the feeling of being unwelcome in the UAE prompted their decision to return to their unsafe temporary house in Damascus. Witnessing the killing of neighbours terrified the children, who refused to go to school for fear they would be killed.   After nearly a year, the family left for Beirut with only their Syrian IDs. After a year in this all too common "holding pattern" of refugee life, the Aljundi family learned of InfoTech's sponsorship offer and prepared to leave for Winnipeg in the far away country of Canada.
A flight to Montreal with hundreds of other Syrian refugees from Lebanon, Jordon and Turkey, a two day orientation preceded their arrival at their final destination, Winnipeg, on the evening of January 26.   The warm welcome from the InfoTech welcoming party went some way in mitigating the cold January evening and the stress associated with new beginnings.
With advice and guidance from Manitoba's Mennonite Central Committee, InfoTech is providing housing, financial and transitional support to the Aljundi family.   We are pleased to see the family already taking the first steps to rebuild their life half way around the globe from the home they left behind in Syria.    In telling this story of the Aljundi family and their new "InfoTech family", we hope to rally others in supporting other families with similar stories.
"I'm incredibly proud that, to a person, all of our staff have contributed time and resources to this initiative all while re-discovering why being a Canadian is such an honor and privilege" says Zorianna.
"Helping the Aljundi family get a fresh start in Winnipeg has been extremely rewarding" she added. "It's nice to see our small group here come together and welcome this family to our beautiful country."
Please join us in saying hello and welcome to the Aljundi family.